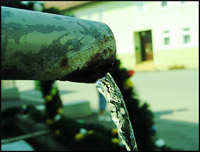 Manitoba is seeking public input on a new Groundwater and Water Well Act, announced Conservation and Water Stewardship Minister Gord Mackintosh March 22, 2012.


"The province's original legislation was proclaimed almost 50 years ago. While it has had updates since then, this new act would ensure the continued safety of our groundwater resources for the future," said Mackintosh.

Legislation is being considered in several areas:
licensing and certification for professional well drillers including geothermal drillers;
driller responsibility and liability insurance requirements to protect landowners including from uncontrolled flowing wells;
better management and protection of groundwater including new reporting requirements;
designation of sensitive areas, protection protocols for wells in flood-prone areas;
a new process for aquifer management planning;
stronger water well drilling, construction and new sealing standards;
establishment of a groundwater and water well database; and
stronger compliance and enforcement measures.
About 1,500 water wells are drilled in Manitoba each year. There are currently about 35,000 active water wells.

A discussion paper and more information is available on Manitoba Conservation and Water Stewardship's website.

Manitobans who are interested in providing input have until April 20 to make a submission.

View March 23, 2012 Winnipeg Free Press coverage
View March 22, 2012 Government of Manitoba Press Release
View Government of Manitoba New Groundwater and Water Well Act Public Consultations page
View Manitoba Wildlands Manitoba Water Initiatives page


Source: Government of Manitoba