In 1977, Manitoba agreed to a joint Federal-Provincial implementation of the Convention on International Trade in Endangered Species of Wild Fauna and Flora (CITES). CITES was formalized by the Manitoba government by MOU when WAPRIITA was enacted.

In 1988, Manitoba signed the Recovery of Nationally Endangered Wildlife's (RENEW) strategy.

In 1990, realizing that Manitoba had the least amount of land protected from development among Canadian jurisdictions. Manitoba was the first in Canada to commitment to establishing a regional, representative network of protected areas.

In 1990, the Manitoba government passed The Endangered Species Act (amended in 1993) to ensure the protection and survival of endangered and threatened species in the province and to enable the reintroduction of extirpated species.

In 1994, the Manitoba government established the Manitoba Conservation Data Centre (MBCDC) to assemble and provide information for conserving Manitoba's natural biodiversity. MBCDC assists in conservation planning, natural resource management, environmental impact assessment and general planning for sustainable development.

In 1996, the Manitoba government integrated the MBCDC into the Manitoba Conservation Wildlife Branch as part of its commitment towards maintaining biodiversity. The MBCDC is part of the Natural Heritage Network which functions under the umbrella of Nature Serve and Nature Serve Canada.

Also in 1996, the Manitoba government signed the federal-provincial-territorial Accord for the Protection of Species at Risk in Canada. The Accord established a mechanism for co-operation among Canadian jurisdictions to protect species at risk throughout Canada.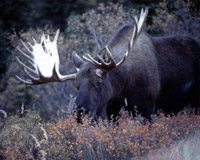 Recent aerial surveys in west-central Manitoba show the moose population in the Porcupine and Duck mountain regions remains low but stable. Manitoba Conservation and Water Stewardship announced March 1, 2012, moose hunting was cancelled in the Porcupine and Duck mountain regions, Game Hunting Area (GHA) 13 and 13A, May 26, 2011 after aerial surveys showed sharp population declines.


Manitoba Conservation and Water Stewardship also put a partial closure in place January 20, 2012 on moose hunting in parts of GHA 26, which stretches from Lake Winnipeg to the Manitoba-Ontario border between the Winnipeg and Wanipigow rivers. Moose populations have declined by almost 50 per cent in this part of the province since 2006. Moose hunting closure areas apply to both licensed hunting and treaty and Aboriginal rights-based hunters.

The department says it has consulted local First Nations and Métis people to find solutions and will continue to work with Aboriginal communities and stakeholders to develop long-term plans to address low moose populations across the province.

Government biologists, natural resource officers and local First Nations perform the aerial surveys. Several factors can influence the number of moose seen during surveys such as snow depth, temperature and time of year. The 2012 results, combined with results from future surveys, will be used to track the progress of moose population recovery in Manitoba.

However hunting and conservation groups feel that more funding and better data is needed.

"This perception on the part of Manitoba Conservation personnel is based on discussions with hunters and outfitters, but very little in the way of hard scientific data, such as population surveys. Manitoba Conservation officials require the resources and tools to do their jobs. All decisions concerning wildlife and fisheries need to be made using realistic and current scientific methods and data. The guesswork needs to be taken out of the equation," says Lac Du Bonnet Wildlife Association Vice President Don Halbert.

In March 2011, the province announced $800,000 for a moose population recovery plan to help end the decline and restore moose population to sustainable levels across Manitoba. This included funding for:
wildlife surveys related to moose management such as moose and wolf population surveys,
incentives to local trappers to increase harvest of wolves,
decommissioning roads into areas of high moose density to help limit vehicle access,
additional staffing resources to implement the moose recovery program and consult with First Nations and Métis people, and
resources for increased enforcement including three new natural resource officers.
View March 6, 2012 Beausejour Review article
View March 1, 2012 Government of Manitoba news release
View January 26, 2012 Manitoba Wildlife Federation press release
View January 20, 2012 Government of Manitoba news release
View May 26, 2011 Government of Manitoba news release
View May 27, 2010 CBC News article
View January 21, 2012 CBC News article


Sources: Government of Manitoba, Lac Du Bonnet Wildlife Association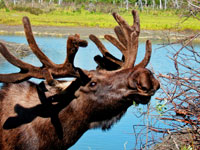 Manitoba is cancelling moose hunting in two regions of the province after steep declines in moose populations have been verified.


Surveys by Manitoba Conservation show moose numbers have fallen as steeply as 65 per cent in several regions since 2000, including around the Duck Mountains, the most popular moose-hunting area, located 400 kilometres northwest of Winnipeg.

Cancellation of all moose hunting will apply to Game Hunting Areas (GHAs) 13 and 13A, located on the Manitoba-Saskatchewan near Duck Mountain Provincial Park, for the 2011season. These cancellations are in addition to cancellations previously announced for nearby GHAs 14 and 14A. To allow applicants time to reapply for other areas, the Hunting License draw results date has been changed from July 16 to Aug. 3.

"As a conservation measure, cancellation of these moose hunting seasons will remain in place until the populations have reached levels allowing resumption of sustainable hunting. If moose populations decline further, there is a risk the population may not recover or the recovery period will be extended over many years," said Manitoba Conservation Minister Bill Blaikie.

In March 2011 the province announced it was directing $800,000 towards dealing with declines in moose populations. The funding included: two new wildlife biologists, additional natural resource officers with better patrol coverage, and a moose advisory committee comprised of local groups, Aboriginal organizations and governments to partner in further development of a moose recovery strategy.

The province states it is working co-operatively with all concerned parties to develop a comprehensive moose management plan. Discussions with First Nations, Métis, and stakeholders are ongoing. The sharing of moose population data, reducing access to the areas, increased predator control measures and conservation closures, are all being actively considered.

View May 27, 2011 CBC News article
View May 27, Government of Manitoba news release
View May 26, 2011 Winnipeg Free Press article
View May 26, 2011 Government of Manitoba news release
View March 18, 2011 Government of Manitoba news release
View Government of Manitoba: Department of Conservation "Big Game Hunting" webpage
View Manitoba Model Forest, Committee for Moose Management


Source: Government of Manitoba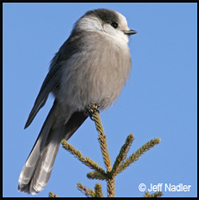 Manitobans are being asked to help track the health, distribution, abundance, and breeding habits of bird species throughout Manitoba by participating in the creation of the first ever Manitoba Bird Atlas Project (MBAP).


"Anyone with a pair of binoculars and bird watching experience, or even a desire to learn about birds, can participate. You don't need to be an expert--we just ask that you are confident in the identification of the birds you report." Exlains the MBAP webpage. Courses in atlassing techniques are already being offered for those wanting to take part. Anyone interested in taking part can call Project Coordnator Christian Artuso, at 204-945-6816, or visit: http://www.birdatlas.mb.ca/

Although the Manitoba Naturalists Society released a publication, The Birds of Manitoba in 2003, Manitoba is behind other Canadian provinces in initiating a breeding bird atlas. Breeding bird atlases were first started in Europe in the late 1970's, and Saskatchewan had an atlas like project starting in the 1970's. The first official Canadian bird atlas was published by Ontario in 1987. Alberta and the Maritime Provinces published bird atlases in 1992, with Quebec following suit in 1995. Ontario and Alberta both released second editions in 2005, and the Maritimes and Quebec are in the process of likewise publishing a second edition. British Columbia, in 2007, announced that it was launching its own bird atlas program. "It's so important to have a comprehensive data set for the province, and it's something we [Manitobans] don't quite have yet," Artuso told the Winnipeg Free Press.

Studies from the U.S., such as the State of the Birds report, indicate that over the past four decades bird numbers have declined across North America due to deforestation, pesticides, urban sprawl, and climate change. This decline in bird specimens is quite literally the canary in the coalmine that is warning us of ailing ecosystems. Obtaining accurate data, therefore, is vital to both: monitoring the health of the planet, and determining where conservation efforts are most needed.

"This year, as we celebrate the International Year of Biodiversity - the abundance and variety of life on Earth - we understand that good information and good science are the foundation of good decision-making when it comes to conservation.", stated Winnipeg South, Member of Parliament Rob Bruinooge in the April 9th, 2010 joint press release, Manitobans to Turn Eyes to the Skies in First Provincewide Bird Count.

The project is a partnership between government, the private sector, and conservation organizations, including the Province of Manitoba, Environment Canada, Bird Studies Canada, Nature Manitoba, The Manitoba Museum, Manitoba Hydro, and Nature Conservancy Canada.

View Manitoba Breeding Bird Atlas website
View Bird Life International website
View April 9, 2010 Government of Manitoba press release
View April 10, 2010 Winnipeg Free Press article
View The State of the Birds: 2010 Report on Climate Change (PDF)
View April 2010 Lac Du Bonnet Leader article



Source: Manitoba Breeding Bird Atlas, Bird Life International